Austin Air Cleaners provide the answers to clean air in offices and homes. Reliability in design, allows for continuous clean air for you and office staff.

The sturdy, well designed units are provided with easy to manage canister wheels for portability.

The units have excellent filtration media; a thick wrap around pre-filter, a fully body hospital grade filter followed by a gas phase, VOC (Volatile Organic Compound) filter.

Filters normally last five years, varying according to pollutant levels.

AllerAir air purifiers use a five-stage filtration process:
A pre-filter to capture large particles


A medical-grade HEPA filter guaranteed to trap 99.97% of airborne particles 0.3 microns in size


An activated carbon filter with pounds of granular virgin carbon to filter out chemicals, gases and odors


Two anti-microbial filters

Customize most AllerAir air purifiers with an additional level of air filtration by adding a UV (ultra violet) germicidal lamp.

UV works by breaking down microorganisms and disrupting their DNA, making them unable to reproduce and in effective, "kills" or neutralizes them. Great for airborne mold mycotoxins, bacteria and viruses.


MICROCON® CD HUV
The MICROCON® CD-HUV (MCDHUV) is a ceiling mounted high efficiency, high capacity, in-room air purification unit that utilizes both HEPA filtration and germicidal UV irradiation to eliminate various airborne pathogens.

The MICROCON® CD-HUV (MCDHUV) is independent of the ventilation system, thereby constantly re-circulating highly filtered pollutant-free air throughout the room.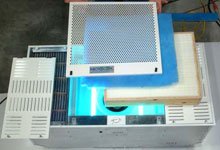 Breathable air that can be contaminated by evidence and property storage poses a health and respiratory hazard to occupants. This is especially true if exposure to blood-borne pathogens, lead dust contamination, bacteria and viral pollutants are present in the area.