AirMATION® Family of Products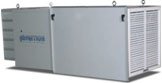 BENEFITS
Provides a safe and healthy workplace that cleans the air beyond the requirements of OSHA, NIOSH, and ASHRAE
Controls lung damaging contaminants in the breathing zone
No unsafe and unsightly hanging hoses in tight restricted areas or walkways
No building or vehicle modifications are necessary
Virtually maintenance-free operation
Cleans and recirculates heated air rather than exhausting it outside, thereby reducing energy consumption
FEATURES
Quiet Operation
Effective Vehicle Exhaust Removal
8-Way Directional Air Return
No Heat Loss
Automatic Filter Change Indicator
Direct Drive Blower Mfr-Rated at 3000 CFM
Low Electrical Usage
Turnkey Installation
Ceiling Mounted
Approved For Historic Locations
Fleet Maintenance Coverage
Controls Carbon Monoxide (CO)

Photocatalytic Oxidizer
(PCO) Technology NOT Recommended for Indoor Air Quality Control.
Vehicle exhaust residue not only adheres to walls and other surfaces, it also becomes embedded in clothing and furniture where it can be absorbed through the skin. Based on studies from the National Institute for Occupational Safety & Health (NIOSH), it is recommended that diesel exhaust be regarded as an occupational carcinogen (causing cancer).
The AirMATION Industrial Air Cleaner removes the particulates, contaminants and carcinogens that migrate into your building when vehicles idle. AirMATION controls diesel fumes and soot, smoke odors, noxious gases, VOCs, welding smoke, carbon monoxide (CO), dust, oil mist, and metal grindings. It is a multi-stage progressive air filtration system designed to clean the air and protect employee health.
Air monitoring tests done by independent agencies show that AirMATION reduces the amount of airborne contaminants (including CO, NO2, and SO2), to levels far below OSHA and NIOSH recommended levels.
The
AirMATION family of products
includes the AirMATION ND, a regular unit designed to fit most spaces; the
AirMATION BB
for larger capacity needs; and the AirMATION DC, a smaller unit for tighter spaces. All models come with a two-year warranty.
AirMATION is powered by a mfr-rated 3000 CFM direct drive blower that draws diesel exhaust and pollutants into the filtration media. The purified airflow is reintroduced into your facility through a baffle box attachment that deadens noise levels while diffusing and dissipating the clean filtered air.
AirMATION's three-stage filter system is the most effective filter system on the market today.
This system includes the following:
A prefilter providing an efficiency value of MERV 8 under ASHRAE guidelines
A high-efficiency 2nd-stage particle filter providing an efficiency value of MERV16 under ASHRAE guidelines and controlling diesel exhaust particulates
A gas phase carbon/alumina filter capable of controlling CO2, nitrous dioxide, and VOC's
We stock a large inventory of replacement filters. Contact us to order your new filters today.

Read what our customers have to say about AirMATION.