Smoke Blotter® 2-Stage System - Phantom Switch™ Zone Filtration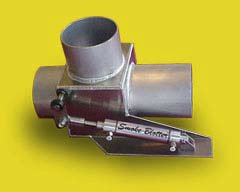 The Phantom Switch™ is a Two-Stage Diesel Emission Control System designed to regulate emissions based on proximity, or "Smog Free Zones." Diesel exhaust capture occurs at the tailpipe before it can enter the breathable air.

Phantom Switch™ is the world's only proximity sensitive automatic diesel emission control system. Radio signals automatically activate the filtration mode when the vehicle enters the Smog Free Zone, and continues to filter emissions until the vehicle drives out of range. This supplements or eliminates engine idle restrictions.

Filtration occurs any time vehicle is within 100 meter range of a Transponder (at fire station, trauma center, school yard, repair shop, etc.) Not just on engine startup or when backing up and not limited to 100 seconds (or less). Filtration in any gear forward, reverse or idling. For as long as needed.

Smog Free Zones are established by use of RF (Radio Frequency) Transponders strategically placed in locations where emission filtration is needed such as such as school bus zones, loading docks, fire departments and public buildings. Within proximity of RF Transponders, diesel exhaust is diverted downstream of the muffler into the filter; effectively reducing emissions by 99% (EPA Level 3).

The Phantom Switch™ design allows longer filter life by capturing soot only when when these vehicles are in sensitive areas. We utilize Cordierite AirCor™ Diesel Particulate Filters which many experts claim are the best in the business. They are highly effective in trapping particles, gases, diesel soot and diesel exhaust. The Phantom Switch™ can greatly prolong the life of a filter by only providing filtration during necessary times.
With the Smoke Blotter 2-Stage System:
• There is no pre-set time limit for protection
• Exhaust passes through the muffler first, then through the filter
• Muffler acts as both Silencer and Spark Arrester
• Muffler can be a Diesel Oxidized Catalytic type
• Filter located downstream of muffler is final exhaust trap and does not effect engines warranty
Stage One

Vehicle is dispatched

• Engine operates normally
• No "Jake Brake" Effect
• Full Horsepower
• No Loss Mileage
• Outside range of RF Transponder
• 25% Emission Reduction with DOC

Stage Two

Vehicle approaches "Smog Free Zone"

(Schoolyard, Trauma Centers, Fire Departments, Municipal Complex, Industries, etc.)


• Filtration activates in range of RF Transponder (within 100 Meters)
• Continuous Filtration as long as vehicle remains in Smog Free Zone
• Fully automatic filtration, switches off when out of range of RF Transponder
• Works idling or in motion
• 99% Emission Reduction